What is an expository essay?
How to write, structure, and format it to reach its purpose?
This article is here to answer all your questions on expository writing. I'll share the meaning and provide a few templates and examples for extra clarity.
Expository Essay Definition
An expository essay is an academic paper that exposes facts, explaining a topic to a reader. A writer shares the info to educate the audience, not entertain or persuade them.
Examples of such explanatory texts are:
Scholarly articles
Instructional or technical guides
Unbiased journalistic investigations
A news report
Textbooks
Business writing
It's an expository text definition for us to understand the nature of this paper type. For more info, let's learn the characteristics and elements of an expository essay.
What are the characteristics of expository essay?
Expository papers are factual and objective. They have a clear purpose, and their structure is linear and logical. In such essays, writers don't share their opinions and don't try to persuade readers.
Expository essays:
Teach readers about the topic.
Provide detailed information.
Describe and explain facts.
Clear, concise, and written with formal language.
Organized, in the 3rd person, with precise word choice.
What are the elements of an expository essay?
Strong thesis statement
Evidence and examples
Specific supporting details to explain the topic for a better understanding
Logical structure and transitions between paragraphs
Compelling conclusion to help readers remember the information better
What Is the Purpose of an Expository Essay?
The purpose of an expository essay is to present information and explain a topic. No personal opinions or biased statements are here, just facts with evidence.
The main focus is logic and coherence.
I've found the method for you to remember expository essays' organization. It's POET: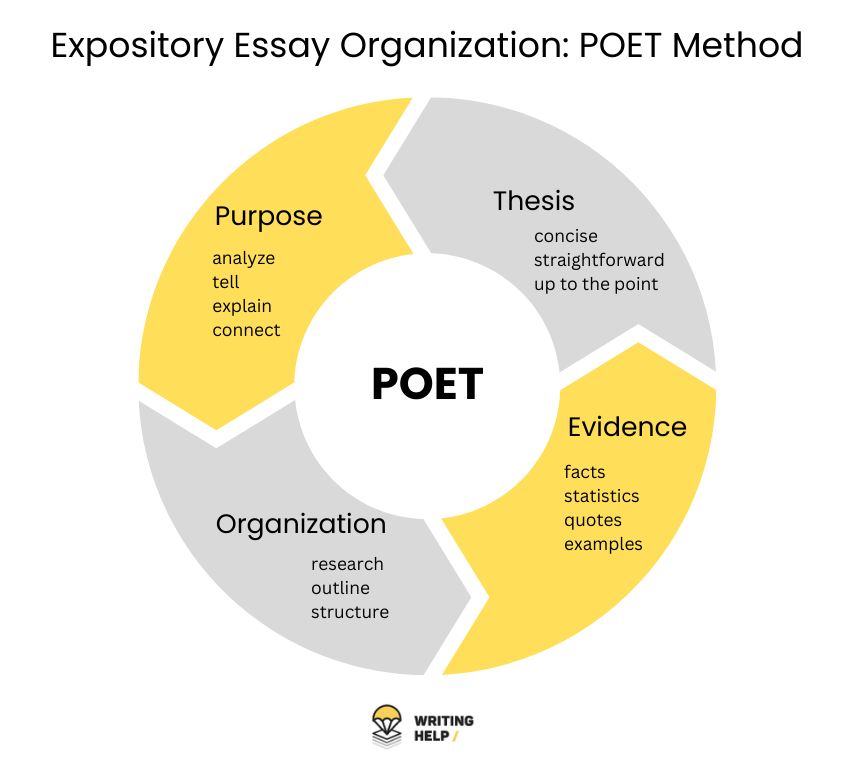 P — Purpose: analyze, tell, explain, and connect the information.
O — Organization: do research, outline, and structure your paper.
E — Evidence: use facts, statistics, expert quotes, and examples.
T — Thesis: be concise and straightforward.
Expository vs. Argumentative
| | |
| --- | --- |
| Expository Essays | Argumentative Essays |
| Objective | Subjective |
| Thesis statement is a topic presentation | Thesis statement is an argument |
| Explore a topic, only give facts and reasons; neutral | Choose a position about a topic (for or against) |
| Write in the 3rd person (he, she, it, they) | Possible to write in the 1st person (I, we) unless otherwise stated in the prompt |
An easy way to understand the meaning and purpose of explanatory papers is to compare them with other text types. Students most often confuse expository essays with argumentative (persuasive) ones. The above table demonstrates the differences for you to remember.
Types of Expository Writing
As a rule, teachers mention the type of expository essay in the assigned prompt. It helps you understand how to structure and present the information in your paper.
The five types of expository writing are:
Definition. These papers describe and explain concepts. You just tell readers about something: a person, a place, a situation, etc.
Classification. Here you need to break a broad concept into subcategories. Start with a general topic, and then tell about each subgroup. (Example: an essay about movie genres, cat breeds, book styles, etc.)
Process (how-to). These texts explain to readers how to create or do something. Give instructions, steps, and practical tips. We also know process essays as problem-solution papers. A writer introduces and describes a problem and then tells the audience how to solve it.
Compare-and-Contrast. Here you tell about the similarities and differences between at least two subjects. Or, you can describe the pros and cons of something. (Example: compare two novels of the same author; pros and cons of living in a village; etc.)
Cause-and-Effect. These essays explain why something happened and what the outcome was. (Example: why Executed Renaissance (1) happened in Ukraine in the 1930s and what effects it has now.)
Expository Essay Structure
In academia, expository essays are standard 5-paragraph papers. You write an introduction, three body paragraphs, and a conclusion.
Below is more information on what to include in every paragraph.
Introduction
The introduction of expository essays includes the topic and the main idea. Three elements to write here:
A writing hook to grab the reader's interest
A topic's background (introducing the topic)
A thesis statement summarizing the main idea (what you'll tell about the subject)
Here's an example: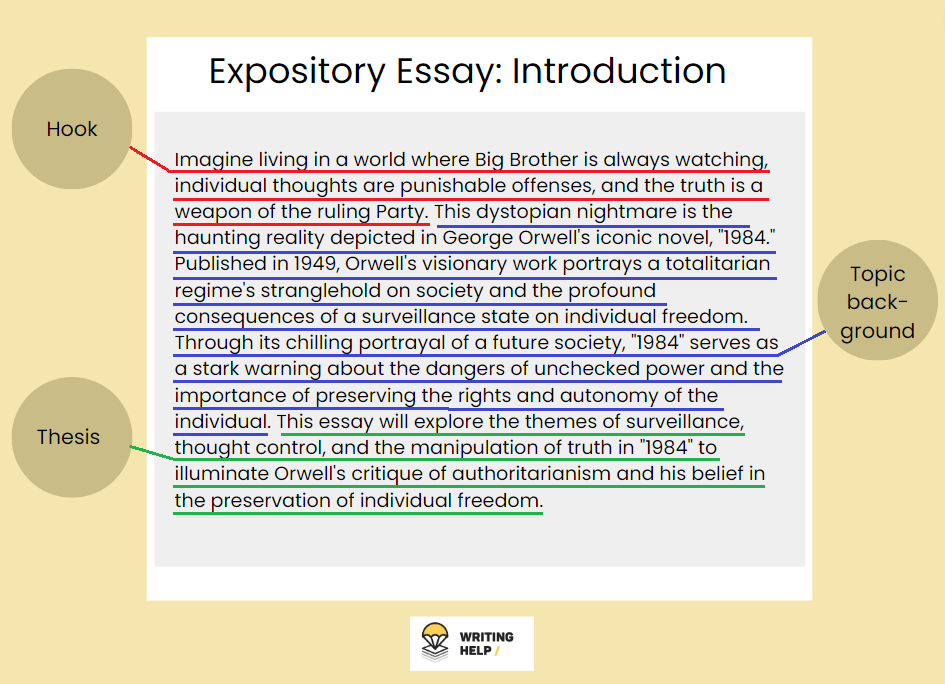 Body Paragraphs
Expository papers have at least three body paragraphs, each exposing one idea. It's critical to craft logical transitions between paragraphs and include evidential support.
Each paragraph should have a logical connection to the thesis statement. As for evidence, use statistics, citations, and other info you've got when researching. (2)
Here go your four E's to consider:
Examples
Explanations
Evidence
Elaboration
That's what a body paragraph of your expository paper might look like: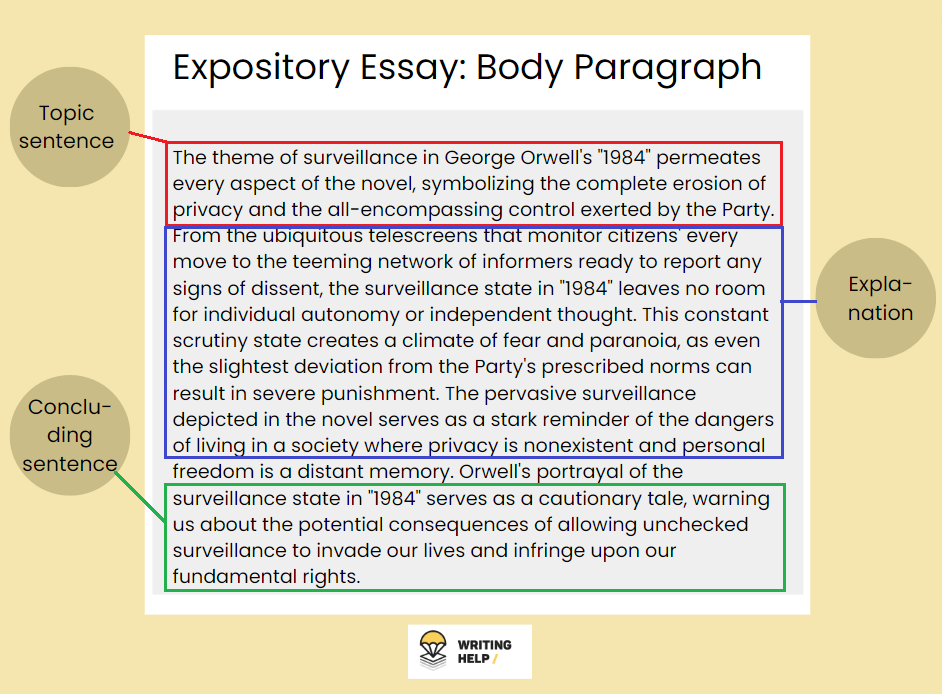 Three elements to include:
Topic sentence (to state what this paragraph will be about)
Explanation of the topic in detail
Concluding sentences with a logical transition to the next paragraph
Conclusion
The final paragraph restates the thesis, given the evidence you provided in the essay. Summarize the topic, but don't introduce any new information. Leave readers with a positive impression of your work.
Three elements of expository essay conclusions:
Readdressing the thesis in light of the provided information
A brief overview of the essay's key points
The key takeaway for readers to remember from your essay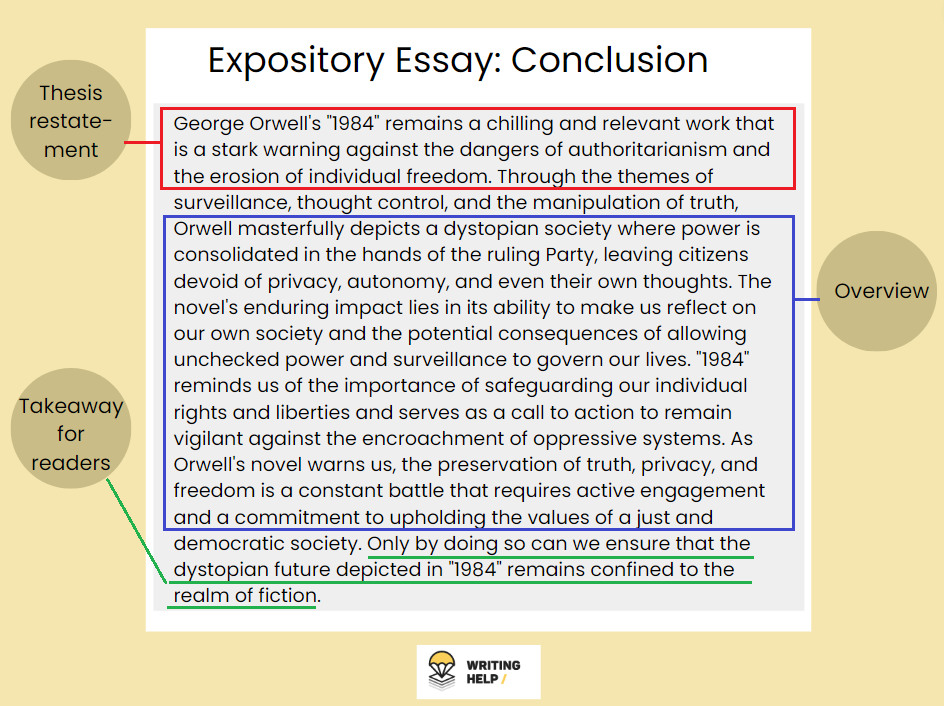 Expository Essay Format
| | |
| --- | --- |
| Heading | No paragraph/section headers |
| Structure | Standard five-paragraph paper |
| Font | 12-point Times New Roman |
| Alignment | Left |
| Spacing | Double-spaced, standard-size paper |
| Margins | 1-inch on all sides |
| Citation style | MLA |
| Word count | +/- 800 words |
Example of Expository Essay
Below is your example of expository writing to see the structure and format. It's a standard five-paragraph essay students write in college. The number of words and paragraphs may differ depending on the prompt you get from teachers.
Feel free to use it for inspiration and a better understanding of how to write: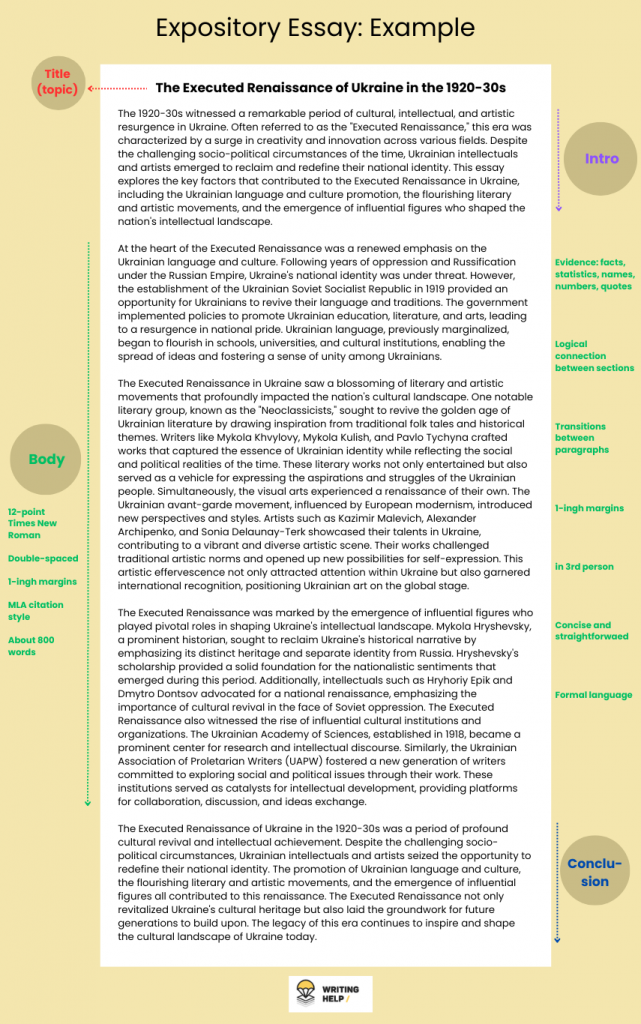 FAQ
What is the primary purpose of an expository text?
The primary purpose of an expository text is to inform readers about the topic. Such texts describe and explain concepts to educate the audience. They are objective. A writer shouldn't express personal opinions or attempt to persuade readers. Expository essays are descriptive, not argumentative or persuasive.
How to write an expository essay?
First, review the prompt; it will tell you all the instructions. You'll know a topic, a word count, a format, etc. Then, do research and gather all the information about your subject. What will you tell the readers? What evidence you'll use to support your points? Once ready, create an outline. You'll need to specify the thesis statement and think about how you structure an essay. Finally, write a draft and proofread and edit it before submitting it to a teacher's review.
What is typically included in the introductory section of an expository essay?
An introductory paragraph starts with a hook to grab readers' attention to the topic. Then, provide a topic's background for readers to understand what you write about. Finally, finish your introduction with a thesis statement. In the thesis, summarize the main idea of your paper.
How long is an expository essay?
Target about 800 words for expository writing. It includes five paragraphs: an introduction, three body paragraphs, and a conclusion. Check your prompt carefully: It often mentions the number of words to write.
Over to You
I hope this article has answered your "What is an expository essay" question. Remember about the purpose: inform and educate readers. Imagine yourself as a lecturer who needs to tell the audience about the subject — and voila!
Follow the logical structure, write in the 3rd person, and use evidence to prove your information. The above tips and examples are here to help you.
References: