The day will come when you can't escape the fate of all students: You will have to write a what is love essay.
No worries:
Here you'll find tons of love essay topics and examples. No time to read everything? Scroll down to get a free PDF with original samples.
Definition: Essay on Love
First, let's define what is love essay?
An essay about love is an expository or descriptive paper students get assigned in college. As a rule, it's a short essay with a standard 5-paragraph structure.
The most common topics are:
Definition of love
What is love?
Meaning of love
But:
Why limit yourself to these hackneyed, general themes? Below, I'll show how to make your paper on love original yet relevant to the prompt you get from teachers.
Love Essay Topics: 20 Ideas to Choose for Your Paper
Your essay on love and relationship doesn't have to be super official and unemotional. It's ok to share reflections and personal opinions when writing about romance.
Often, students get a general task to write an essay on love. It means they can choose a theme and a title for their paper. If that's your case,  feel free to try any of these love essay topics:
Exploring the impact of love on individuals and relationships.
Love in the digital age: Navigating romance in a tech world.
Is there any essence and significance in unconditional love?
Love as a universal language: Connecting hearts across cultures.
Biochemistry of love: Exploring the process.
Love vs. passion vs. obsession.
How love helps cope with heartbreak and grief.
The art of loving. How we breed intimacy and trust.
The science behind attraction and attachment.
How love and relationships shape our identity and help with self-discovery.
Love and vulnerability: How to embrace emotional openness.
Romance is more complex than most think: Passion, intimacy, and commitment explained.
Love as empathy: Building sympathetic connections in a cruel world.
Evolution of love. How people described it throughout history.
The role of love in mental and emotional well-being.
Love as a tool to look and find purpose in life.
Welcoming diversity in relations through love and acceptance.
Love vs. friendship: The intersection of platonic and romantic bonds.
The choices we make and challenges we overcome for those we love.
Love and forgiveness: How its power heals wounds and strengthens bonds.
Love Essay Examples: Choose Your Sample for Inspiration
Essays about love are usually standard, 5-paragraph papers students write in college:
One paragraph is for an introduction, with a hook and a thesis statement
Three are for a body, with arguments or descriptions
One last passage is for a conclusion, with a thesis restatement and final thoughts
Below are the ready-made samples to consider. They'll help you see what an essay about love with an introduction, body, and conclusion looks like.
What is love essay: 250 words
Lao Tzu once said, "Being deeply loved by someone gives you strength while loving someone deeply gives you courage." Indeed, love can transform individuals, relationships, and our world.
A word of immense depth and countless interpretations, love has always fascinated philosophers, poets, and ordinary individuals. This emotion breaks boundaries and has a super power to change lives. But what is love, actually?
It's a force we feel in countless ways. It is the warm embrace of a parent, filled with care and unwavering support. It is the gentle touch of a lover, sparking a flame that ignites passion and desire. Love is the kind words of a friend, offering solace and understanding in times of need. It is the selfless acts of compassion and empathy that bind humanity together.
Love is not confined to romantic relationships alone. It is found in the family bonds, the connections we forge with friends, and even the compassion we extend to strangers. Love is a thread that weaves through the fabric of our lives, enriching and nourishing our souls.
However, love is not without its complexities. It can be both euphoric and agonizing, uplifting and devastating. Love requires vulnerability, trust, and the willingness to embrace joy and pain. It is a delicate balance between passion and compassion, independence and interdependence.
Finally, the essence of love may be elusive to define with mere words. It is an experience that surpasses language and logic, encompassing a spectrum of emotions and actions. Love is a profound connection that unites us all, reminding us of our shared humanity and the capacity for boundless compassion.
What is love essay: 500 words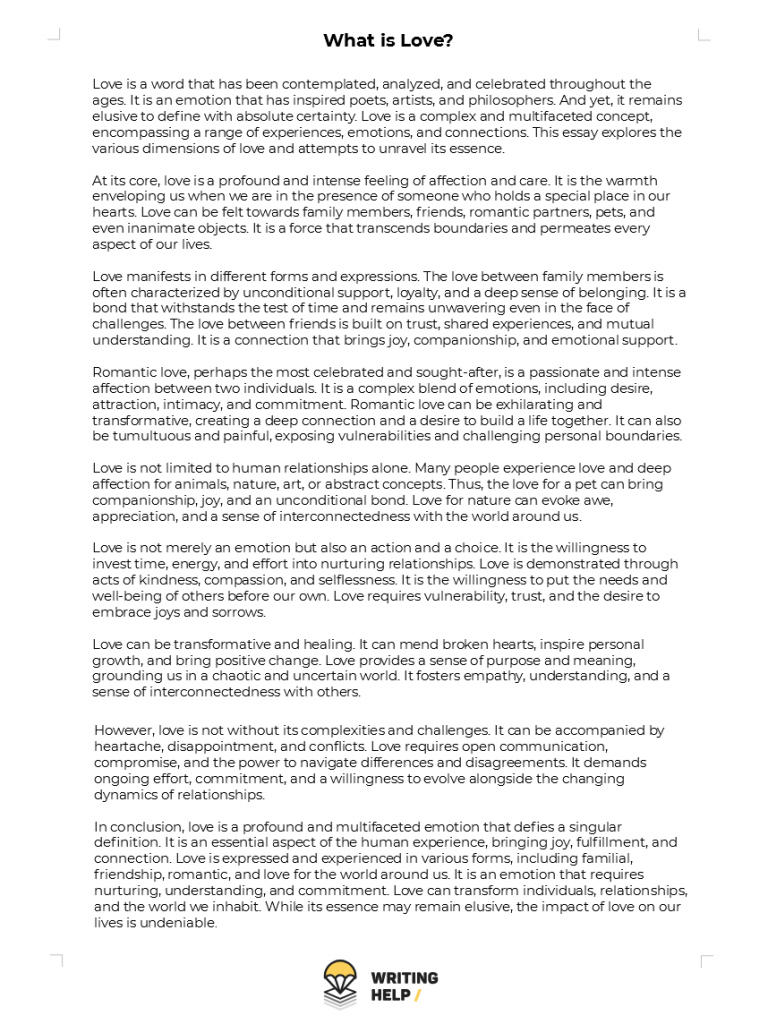 A 500-word essay on why I love you
Trying to encapsulate why I love you in a mere 500 words is impossible. My love for you goes beyond the confines of language, transcending words and dwelling in the realm of emotions, connections, and shared experiences. Nevertheless, I shall endeavor to express the depth and breadth of my affection for you.
First and foremost, I love you for who you are. You possess a unique blend of qualities and characteristics that captivate my heart and mind. Your kindness and compassion touch the lives of those around you, and I am grateful to be the recipient of your unwavering care and understanding. Your intelligence and wit constantly challenge me to grow and learn, stimulating my mind and enriching our conversations. You have a beautiful spirit that radiates warmth and joy, and I am drawn to your vibrant energy.
I love the way you make me feel. When I am with you, I feel a sense of comfort and security that allows me to be my true self. Your presence envelops me in a cocoon of love and acceptance, where I can express my thoughts, fears, and dreams without fear of judgment. Your support and encouragement inspire me to pursue my passions and overcome obstacles. With you by my side, I feel empowered to face the world, knowing I have a partner who believes in me.
I love the memories we have created together. From the laughter-filled moments of shared adventures to the quiet and intimate conversations, every memory is etched in my heart. Whether exploring new places, indulging in our favorite activities, or simply enjoying each other's company in comfortable silence, each experience reinforces our bond. Our shared memories serve as a foundation for our relationship, a testament to the depth of our connection and the love that binds us.
I love your quirks and imperfections. Your true essence shines through these unique aspects! Your little traits make me smile and remind me of the beautiful individual you are. I love how you wrinkle your nose when you laugh, become lost in thought when reading a book, and even sing off-key in the shower. These imperfections make you human, relatable, and utterly lovable.
I love the future we envision together. We support each other's goals, cheering one another on as we navigate the path toward our dreams. The thought of building a life together, creating a home filled with love and shared experiences, fills my heart with anticipation and excitement. The future we imagine is one that I am eager to explore with you by my side.
In conclusion, the reasons why I love you are as vast and varied as the universe itself. It is a love that defies logic and surpasses the limitations of language. From the depths of my being, I love you for the person you are, the way you make me feel, the memories we cherish, your quirks and imperfections, and the future we envision together. My love for you is boundless, unconditional, and everlasting.
A 5-paragraph essay about love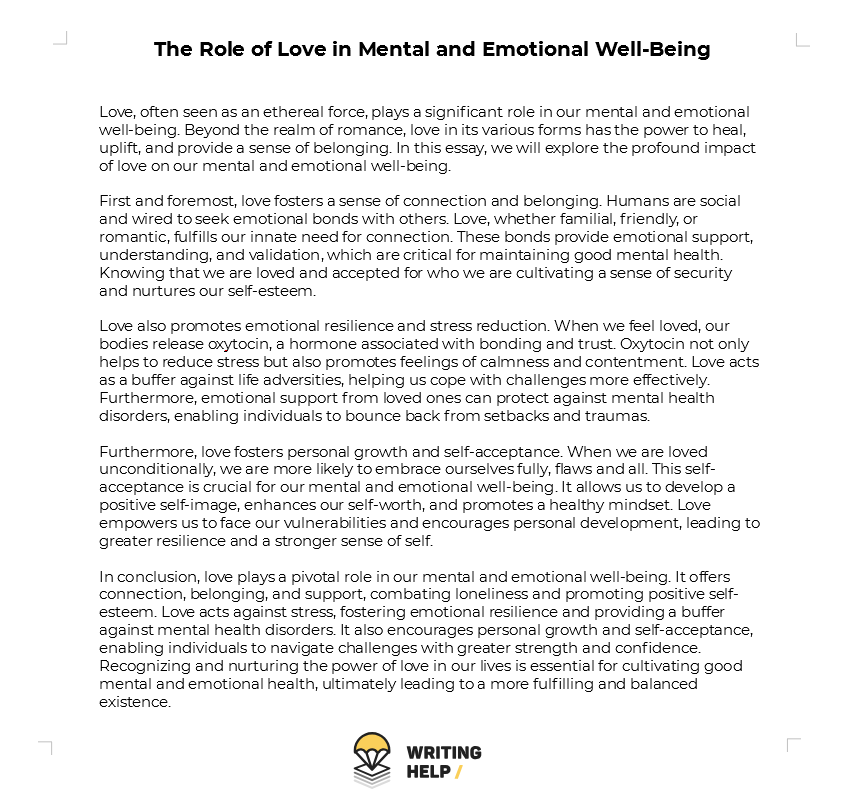 Bonus!
I've gathered all the samples (and a few bonus ones) in one PDF. It's free to download. So, you can keep it at hand when the time comes to write a love essay.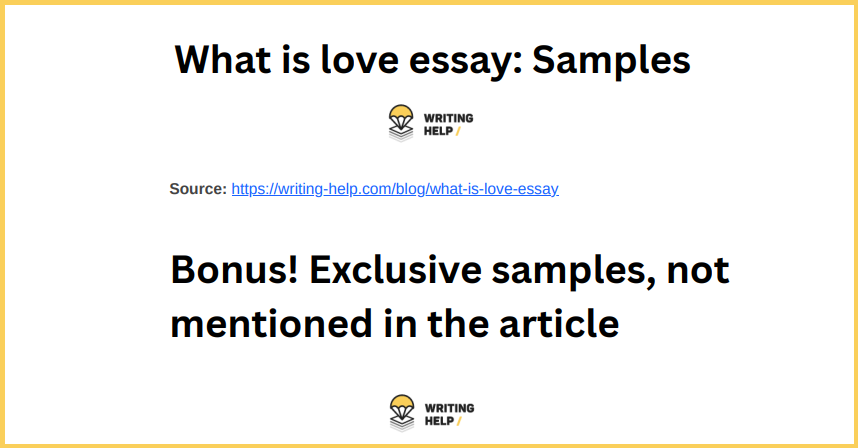 Ready to Write Your Essay About Love?
Now that you know the definition of a love essay and have many topic ideas, it's time to write your A-worthy paper! Here go the steps:
Check all the examples of what is love essay from this post.
Choose the topic and angle that fits your prompt best.
Write your original and inspiring story.
Any questions left? Our writers are all ears. Please don't hesitate to ask!