Despite all the challenges, such as unpredictable working schedules, irregular income, and a huge competition, the freelance writing niche attracts hundreds of people willing to earn extra cash.
Indeed:
With dozens of freelance writing websites available, it seems easy to register, create a profile, start pitching clients, and offer your writing services. The problem?
Such websites are numerous. Some are free, while others ask you to pay for registration. Some are perfect for freelance newbies who start their careers in writing, but others will work for experts ready to scale their income or even turn freelance writing into a full-time job.
In this post, we've gathered the best sites for freelance writers. Whether you're a beginner looking for a side hustle or a writing expert willing to raise your freelancing income, you'll find the most appropriate options here.
1 – Upwork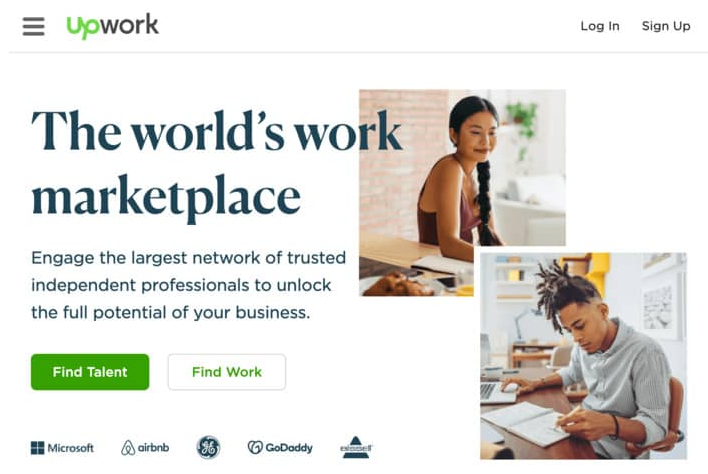 Experienced freelancers may remember this website as Elance or oDesk. It's a marketplace where writing work is just a branch of many categories, but it's massive enough to find gigs in many writing genres: creative writing, blog post writing, copywriting, etc.
It's super popular among freelance specialists, so it can be challenging to break into the market and grab the attention of potential clients.
Pros: Tons of gigs available, perfect for writers with no website or portfolio, user-friendly interface, offers a payment protection fee
Cons: Takes a cut of fees, competitive
2 – FlexJobs
With 55 career categories available, FlexJobs is among the best writer websites: It allows you to find flexible job opportunities, especially if you want to do it from home. This resource is more suitable for experienced content creators.
While you can browse jobs there, you'll need a subscription to access them and offer your writing services to potential clients.
Pros: Many gigs available, ideal for those working from home
Cons: US jobs only, not free to use
3 – Textbroker
This platform works like a manager for freelance writers, helping them find gigs of all difficulty levels. You'll need to register there and submit your work sample for them to rate it and deliver corresponding content orders to you monthly.
Here you can work as an independent content creator and have clients that will send orders to you, or you are welcome to join a team of writers and work together.
Pros: Beginner-friendly, lots of gigs to apply for every month
Cons: For US citizens only, quite expensive to use
4 – ProBlogger
Created by veteran blogger Darren Rowse, the platform attracts better-quality jobs and focuses on blogging tasks. It's not that popular among big brands, and only a few job offers appear here daily. Given that, competition may be super high, and it can take time to land a job here.
ProBlogger will fit experienced freelance writers who use several other resources for job search. When used alone, the platform won't bring a stable income.
Pros: Easy to use; small business companies looking for writers there
Cons: Not that popular among big brands as your potential clients
5 – Blogging Pro
This job board is perfect for web writers of different genres: copywriting, journalism, social media writing, blogging, editing, and more. Feel free to try it if you are a newbie and need some practice to improve your writing skills or build a portfolio.
Quality control exists here because advertisers pay to list their offers at Blogging Pro.
Pros: Free to use, various writing gigs, payment per word
Cons: For the lower end of the market only
6 – Freelance Writing Job Board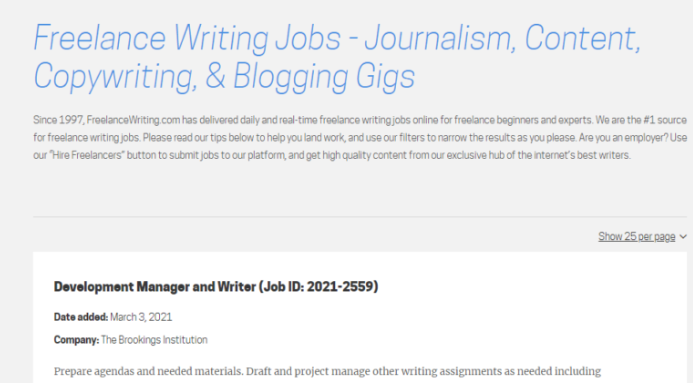 This one is among the oldest freelance writing websites on the list. Advanced search and navigation options make it easy to use and look for the most relevant gigs in your writing niche: journalism, blogging, copywriting, or web content creation.
The platform will better fit experienced freelancers, though beginners can also try it. Writing resources available here can help improve skills and master advanced writing tactics to start earning more.
Pros: Established, shares informative resources for freelancers, comfortable to use
Cons: For US-based users only
7 – Contently
Try it if you are an experienced content writer willing to add big brands like Coca-Cola or Google to your portfolio. The platform's team looks through your writing samples and decides whether you are professional enough to work with your desired client.
It's your chance to scale rates and boost your professional network. You can also use the website as a platform for your writing portfolio.
Pros: High-paying clients, free to use for freelancers
Cons: Not for beginners; experienced freelance writers only
8 – iWriter
This website is yours if you are not a creative writer but a technical one feeling okay with strict requirements like keywords or specific layouts to use while drafting. It fits beginners and professionals, but they'll ask you to level up the profile to access higher-paying gigs.
To succeed at iWriter, get ready to write for this service consistently and build your reputation as a reliable specialist.
Pros: Many writing niches, possible to get a long-term project, high payments, tips available
Cons: Hard to find a once-off gig there
9 – Contena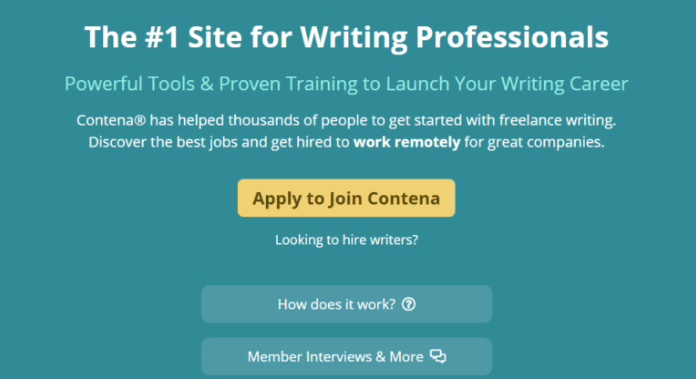 Contena is a collection of writing gigs from all around the web, and it's comfortable to use for those lacking time to look for gigs and pitch them. Here, you can learn new tactics for writing better pitches, managing your clients, getting more referrals, etc.
It's a paid job board, so join it only when you're confident in your skills and abilities to earn extra cash there.
Pros: Easy to use and apply for gigs; educational resources teach how to get more clients
Cons: US-focused, expensive to join
10 – Guru
Like Upwork, Guru is a micro-gig website: It's easy to create a profile and look for countless writing projects there. Flexible and cost-effective, the platform will fit freelance writing newbies looking for tasks to build a portfolio.
The payment system is flexible here: You get paid for an hour, a milestone, or a completed and approved task.
Pros: Free to use, perfect for entry-level gigs
Cons: Fewer jobs available, nothing to offer to established freelance writers
11 – Freelancer.com
This one is among the best sites for freelance writers, with multiple gigs for specialists of all levels. Besides copywriting and article writing, there are categories like SEO and digital marketing, where you can also find opportunities to showcase your writing talents.
Freelancer is easy to use: Create a free profile, apply, and place a bid for a potential client to see if they can handle it.
Pros: Many high-profile clients, tons of gigs available
Cons: Takes a cut of your fees, free bids per month are limited
12 – Writer Access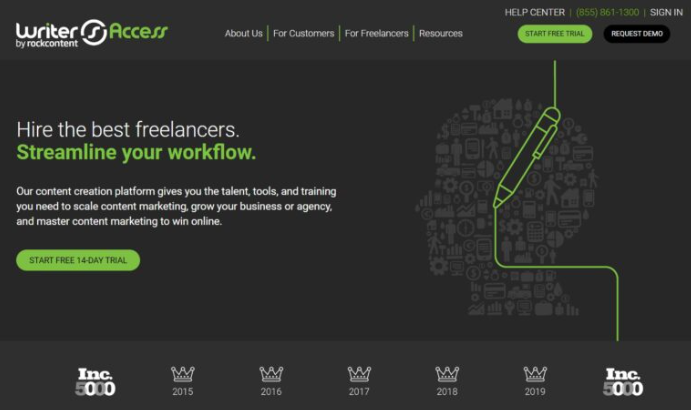 Writer Access is a premier platform for established content creators. As far as big brands and large companies use it to find specialists, the focus is on experienced writers with solid portfolios. You can find long-term clients here, but be ready to demonstrate competence before getting accepted.
You'll need to share a high-quality sample before creating a profile. Also, the platform will take a cut of your fees.
Pros: Many writing niches available
Cons: The application process is a must; rates vary
13 – Writers Work
This one is among the websites for freelancers that share both gigs and informative resources to improve writing skills. It aggregates offers from across the web, so it's comfortable to manage all opportunities and submissions in one place.
Try Writers Work if looking for freelance writing jobs in copywriting, journalism, or creative content writing. The platform isn't free, but you can cancel your subscription anytime.
Pros: Many tools and resources for freelancers
Cons: Not free to use, may be unsuitable for advanced writers
14 – LinkedIn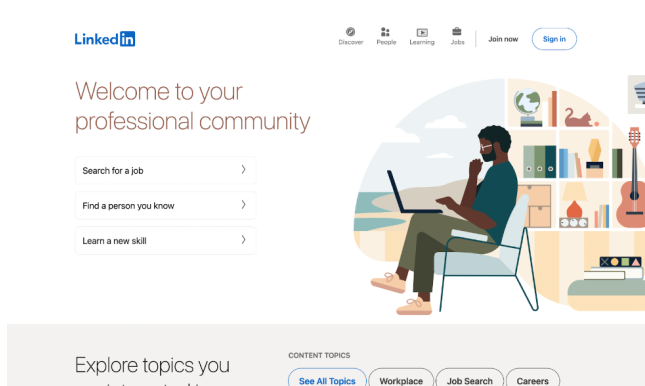 We all know this resource as a social media website for networking and career growth. With a well-optimized and professionally crafted profile, you can land many gigs, especially if your niche is B2B writing. The search is comfortable, and you can mention that you're open to freelance offers.
The only drawback is that LinkedIn is more appropriate for those looking for full-time jobs or long-term projects. Users don't expect to find outsourced specialists of once-off gigs there.
Pros: Outreach-friendly, perfect for B2B freelance writers
Cons: Once-off gigs are hard to find and get, InMail isn't free
15 – Constant Content
It's a service helping to create all sorts of web content, so feel free to create a profile there if you write blog posts, social media posts, product pages, ebooks, etc. Get ready to showcase your skills and submit a writing sample:
You can apply for freelance jobs only after you've got approval. Also, please note that you can't contact clients outside the platform.
Pros: Gigs from big brands are available
Cons: Pre-approvement is necessary to join the platform
16 – Craigslist
Let's face it: Craigslist has a controversial reputation among job seekers. They berate the resource for the high level of scams and low-quality job offers. However, you can try it if you are confident in your web search skills. The website offers many freelance writing jobs online, and some are solid enough to build a portfolio.
Or, if you want to find a gig in your city in particular, Craigslist is also an option to consider.
Pros: Free to use, perfect for entry-level gigs
Cons: Uncomfortable interface, no focus on writing gigs (takes tons of time to find relevant offers)
17 – Writing-Help
And last but not least, the website for freelancers you are reading at the moment: Writing-Help.com is your choice if you know how to write academic papers of all levels and are ready to help students and young researchers to deal with them.
Gigs are many, and your rates will depend on the topic, difficulty level (it stands to reason that a book review won't be as profitable as a thesis or dissertation writing), and due date (the more urgent, the more expensive).
Pros: Lots of gigs, international writers' community, high rates
Cons: The application process is a must; the academic writing niche only
Now that you have the list of freelance writing websites to address when looking for side hustles or full-time writing jobs, which one would you try first? Or, maybe you are an active user of some resources mentioned here? Please, don't hesitate to share your experience in the comments!